About Us
You can count on PCC Structurals' extensive experience and knowledge to consistently provide high-quality castings, even at significant volumes.
Welcome To PCC Structurals
Headquartered in Portland, Oregon, PCC Structurals is the world leader in superalloy, aluminum and titanium investment casting.  With applications in jet aircraft engines, airframes, industrial gas turbine (IGT) engines, military armaments, medical prosthesis, and many other industrial markets, we provide a wide portfolio  of high-quality components, some as large as 100 inches (250cm).
As the original business unit for Precision Castparts, you can count on PCC Structurals' extensive experience and knowledge to consistently provide high-quality castings, even at significant volumes.
PCC Structurals also provides solidification modeling, in-house rapid prototyping (including SLA), digital radiography, hot isostatic pressing, precision machining and protective coating services. We operate 11 manufacturing facilities in the United States and Europe.
History
In 1949, Joseph B. Cox, the owner and president of Oregon Saw Chain, wanted to manufacture a special cutter for use in his new saw chain design. Cox had developed the design for this cutter while pinned down in a foxhole during World War II, by watching a worm slowly bore its way through a log. This unique design, which required investment casting to create, would later revolutionize the chain saw industry.
Since the investment casting industry was very small in 1949, Cox could not find anyone to cast his new cutter design at an affordable price. So he established a small investment casting operation in Portland, Oregon.
On April 1, 1953, the casting division was incorporated as Precision Castparts Corporation, with Joe Cox as the sole owner and president. The newly-established twenty-person company subsequently moved operations to a new facility, and designated Ed Cooley, Assistant General Manager for Oregon Saw Chain, as the General Manager.

Photo from 1957 of LPC's workforce (which was all of Precision Castparts back then).
Courtesy of Don and Donna Smith, shared with us by Kourtney Seus.
On July 1, 1957, Precision Castparts was established as a separate business from its parent, Oregon Saw Chain, and was sold to three people: Ed Cooley, who served as the President and General Manager, Ken Pierce, the Sales and Production Manager, and Carroll Page, the Engineering and R&D Manager. Ed Cooley decided that the key to success for the new company was to make castings of greater size and complexity than the competition could manufacture.
In 1959, PCC made a commitment to Solar Turbines for a 55-pound casting. At the time, the largest casting that could be produced out of solid mold was roughly three pounds. After several process changes and the addition of larger equipment, the company was successful in its endeavor.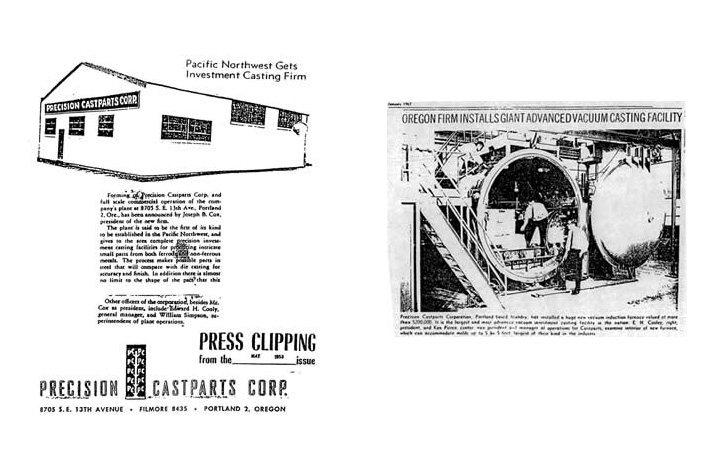 Then, in 1965, General Electric was contracted by the U.S. Air Force to provide a 40,000-pound thrust engine for the C5A transport, the TF39. This engine was nearly three times the size of any other in production. GE selected Precision Castparts to provide investment castings for the program, initiating a relationship that has endured over 52 years, and establishing Precision Castparts for the first time as an aerospace supplier.
In 1967, Precision Castparts went public, with share prices starting at $12 (today worth over $165). Owners Carroll Page and Ken Pierce departed the company, leaving Ed Cooley as the sole owner.
PCC opened SPC-S, now SSBO, in Clackamas, Oregon in 1980 with the intent of producing smaller castings at a lower overhead. Then, in 1984, PCC purchased the foremost titanium foundry in Europe from Messier Fonderie D'Arudy, and subsequently moved its operations to Ogeu-les-Bains, France, in April 1986.
Realizing that significant opportunities were available in the cast blade and vane business, PCC purchased TRW's casting division in 1986, known today as PCC Airfoils, establishing the PCC Structurals Division as a separate entity within the company.
PCC Structurals subsequently purchased Schlosser Casting Company of Redmond, Oregon in December of 1997, accelerating PCC's entrance into the growing airframe market, while increasing overall titanium capacity and capability.
Then, in 1999, Precision Castparts Corp. completed its largest acquisition in Wyman-Gordon of Grafton, Massachusetts. Several Wyman-Gordon casting operations were transferred to the management of PCC Structurals, including plants in Groton, Carson City, San Leandro, Tilton and Franklin.
PCC Ogden joined the Structurals family in December of 2006, complementing PCC's existing aluminum and steel casting operations and enabling the company to produce larger components.
Today, PCC Structurals, led by Mike Kuiawa, consists of twelve facilities in the United States and France. Headquartered in Clackamas, Oregon, PCC Structurals continues to manufacture the largest investment castings in the world.
Adapted from, "A History of Precision Castparts," 25 Mar 94, by Bob Ballou. Originally transcribed by Melanie Wright.